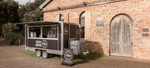 Coffee Cart Hire: Bring a Unique Touch to Your Next Event
Add some flavour and variety to your next event!
If you're planning an event or gathering, why not provide a truly unique and enjoyable experience for your guests? With a
mobile coffee cart
, you'll be able to offer delicious artisan coffees to your guests and create an unforgettable impression.
What Is a Coffee Cart?
Coffee carts provide an innovative way to caffeinate your next event. They are essentially a mobile coffee shop, complete with great coffee, professional baristas and fantastic service. Not only do coffee carts provide a unique touch to any event, but they also offer customisable beverage options to fit the specific needs and preferences of your attendees. Whether it's a gourmet espresso or a classic flat white, coffee carts bring a touch of sophistication and convenience to any gathering.
What Kind Of Events Do They Cater?
Whether it's a corporate gathering, a wedding, or a community event, coffee carts have the flexibility to cater a wide range of events. They can provide a quick caffeine fix during a long conference, a delicious addition to a wedding reception, or a convenient source of refreshment at an outdoor festival.
Are They Expensive?
The price of coffee cart hire can vary depending on a number of different factors including the event duration and the number of guests served. While some companies may charge a higher price for their services, others offer more affordable options.

The Coffee Store offers a wide range of affordable Coffee Cart package options to suit any budget and event size. Our Boutique Mobile Espresso Bar can cater events from Whangarei to Rotorua.


How Do I Choose A Coffee Cart Hire Service?
There are several factors to consider when selecting the perfect vendor for your coffee needs.

Firstly, the quality of the coffee and the various drink options available should be at the forefront of your decision-making process. Your attendees will appreciate a range of coffee options, including lattes, cappuccinos, and espressos, and the coffee should be of high quality.

Secondly, you should consider the vendor's level of expertise and experience and their reputation amongst their previous clients to guarantee a smooth, successful event.

Lastly, you should factor in the cost of the service. Opt for a coffee cart hire company that offers up-front pricing and package deals to ensure you get the best value for money.
Coffee Carts are an excellent option for those looking to add a unique twist to their next event. They provide a perfect addition for any occasion, from large scale events to small, intimate weddings. So why not take your event to the next level with a quality coffee cart hire?

The Coffee Store's expert mobile baristas can provide a gourmet caffeine fix to events across the Auckland, Whangarei, Waikato and Tauranga regions. We cater to all sizes of events with our mobile coffee carts. Find out more about our package options or book a cart online.